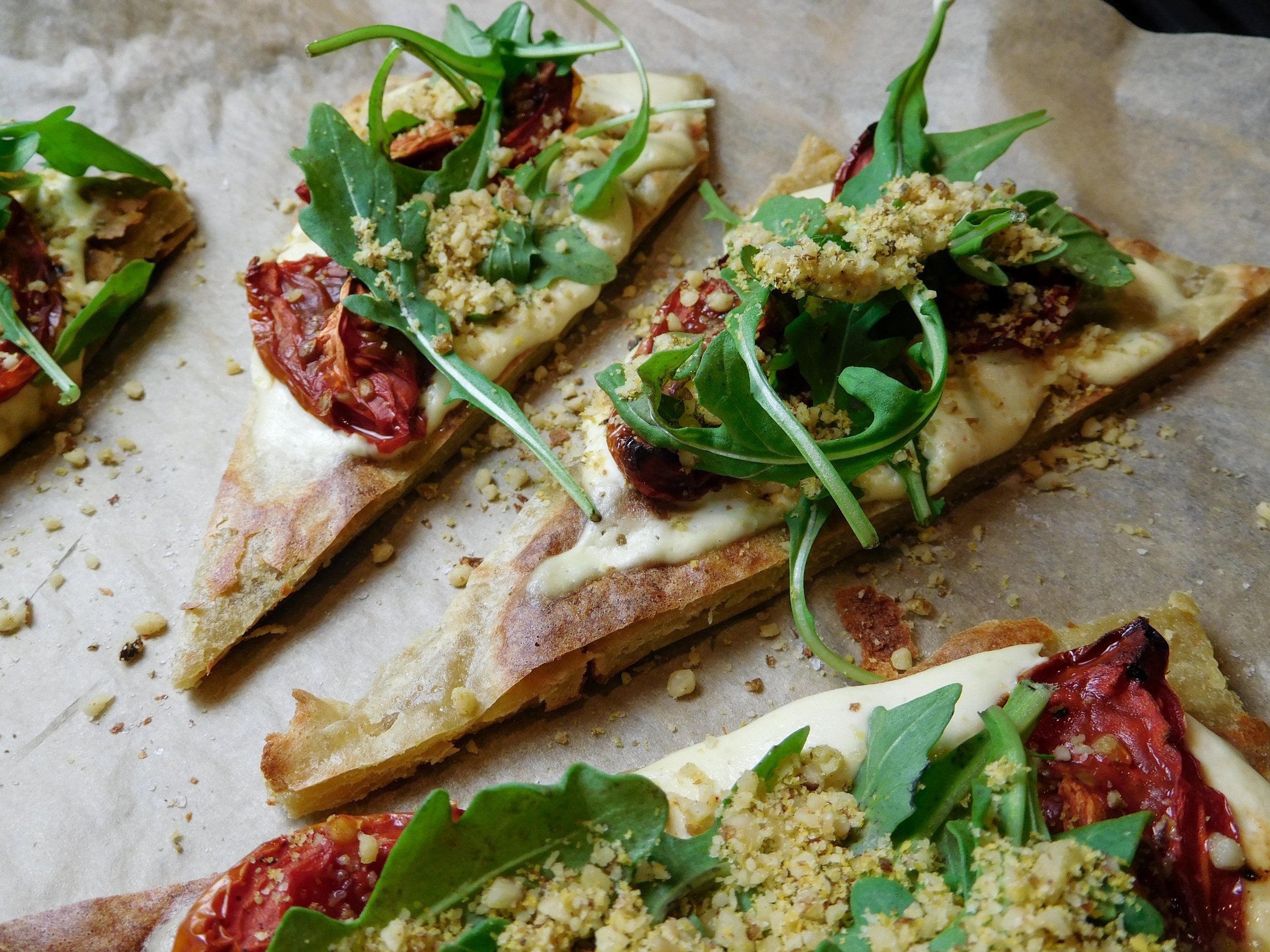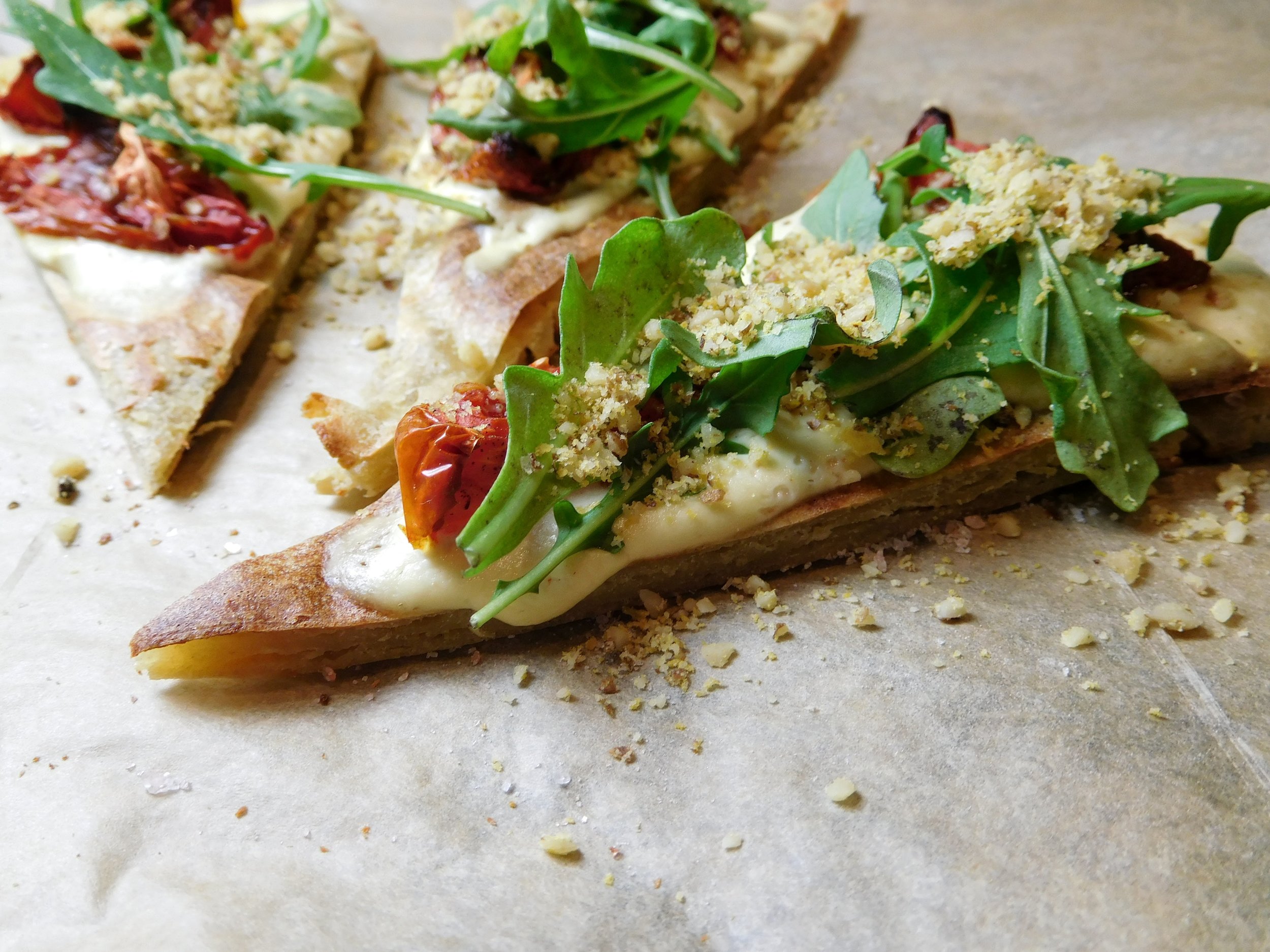 Gluten Free Quinoa Flat Bread Pizza
Crust - quinoa, water
Lemony Alfredo White Sauce - Cashews (raw, unsalted), plant milk (unsweetened), nutritional yeast, lemon zest, lemon juice, salt, pepper, pasta water (water from cooking pasta)
Vegetable toppings - oven roasted tomatoes, salt, pepper (no oil), fresh arugula
Nut based parmesan - walnuts, nutritional yeast, garlic powder, salt
Quinoa flat bread crust - Savy Menke, The Microvore Diet
Lemony Alfredo White Sauce - Instagram Account, Let's Eat Vegan
Walnut Parm - Clean Food, Dirty Girl, Walnut Parm
Pizza is one of those things that are hard to replicate without gluten or dairy. You really have to change your expectations when considering a vegan, gf pizza. This crust is very satisfying, crunchy edges, soft middle. You can vary the thickness to your liking depending on how you spread out the batter.
You can make most of the elements in advance so assembly will not take too much time. The lemony Alfredo can be made a few days ahead and stored in the fridge. Any leftover sauce is fantastic on pasta or steamed vegetables. The walnut parm will keep for at least a week so that can be ready as well. Tomatoes can be roasted up to 3 days in advance.
The combination of these flavors really comes together to create a delicious meal. You could experiment with other green vegetables, mushrooms, other sauces, other nut cheeses or spreads so the possibilities are endless! I plan to try it with cashew cream cheese or almond feta or even cashew sour cream. I will post different combinations as I discover them!
This recipe has no oil, dairy, gluten, chemicals or anything other than whole foods!
Click here for the quinoa flat bread crust.
Click here for the white sauce.
Click here for the walnut parm.
Directions to put it all together!
2 days ahead - make the walnut parm according to the recipe directions.
2 days ahead - roast the tomatoes. Use your favorite type of tomato and cut into desired shape, rounds, wedges or leave cherry tomatoes whole. Preheat oven to 400 degrees. Line a baking sheet with parchment paper. Place the tomatoes on the sheet and sprinkle with coarse salt and pepper. Roast in oven until beginning to brown, about 30 minutes. When done, remove from oven, allow to cool then peel off paper and store in an air tight container in fridge.
2 days ahead - soak the cashews (the recipe says for at least one hour, but I soak them overnight if I remember!)
1 day ahead - soak the quinoa in water per the recipe instructions.
1 day ahead - drain and rinse the cashews, they can keep in the fridge for a day or so if you need, otherwise make the sauce according to the recipe instructions.
The big day - or the day you finally want to make and eat your pizza! Make the quinoa flat bread according to the recipe instructions. When the flat bread is ready, remove from but don't turn off the oven. Allow the flat bread to cool enough to peel off parchment. Once cool enough to handle, cut flat bread into wedges or desired shape. Spread white sauce on bread - the amount depends upon how much sauce you like on your pizza. Place the prepared tomatoes on top. Put the pizza back into the oven until it is warmed through, about 10 minutes. Remove from oven and place fresh arugula on top. Finish by sprinkling with walnut parm. Enjoy!